Permeable Paving
Permeable Paving
Permeable Paving / Bound Gravel – Combine beautiful, natural pebbles with Gravel- Lok® to create permeable pathways, plazas, patios, driveways, garden paths, and more.
Gravel Joints
Gravel Joints
Gravel Joints- Use Gravel-Lok® to bond decorative, natural gravel in joints between flagstones and stepping stones. Keeps gravel permanently in place. Permeable. Other uses: stonescaping and city tree pits.
Green Roofs
Green Roofs
Green Roofs – SlopeGrid featuring 3D connected cells will confine soil on rooftops and create the perfect environment for lush vegetation.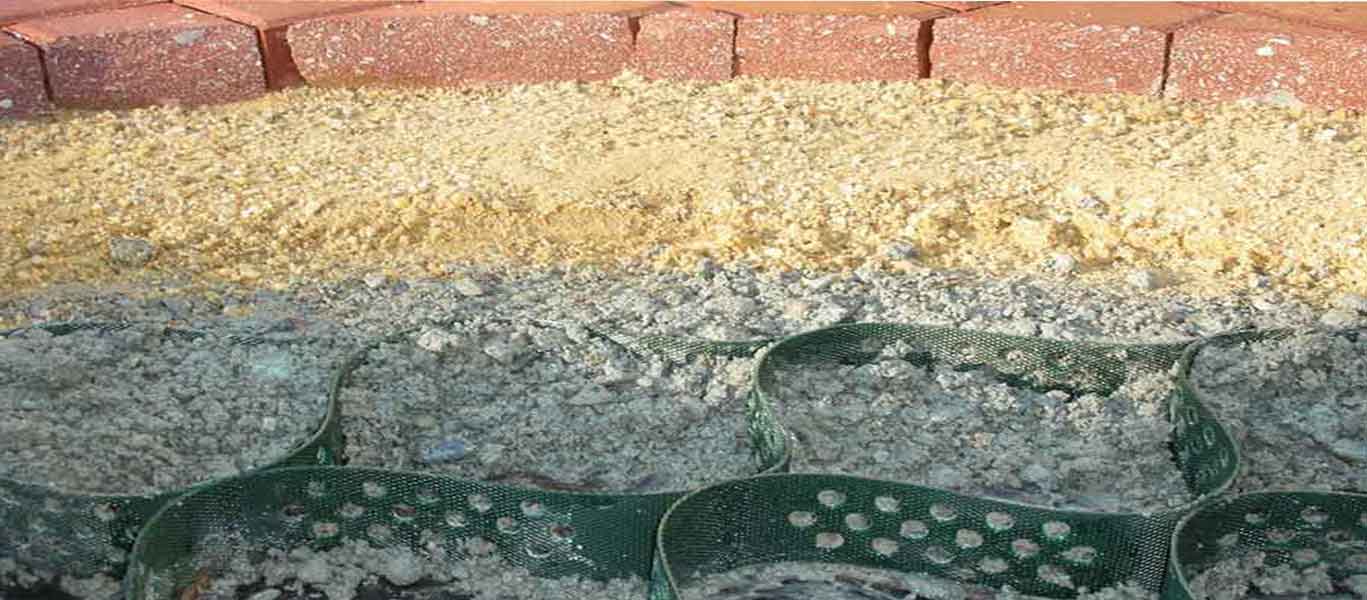 Pavement Base
Pavement Base
Paver Base Support – Eliminate rutting by installing our Load Support Grid (LSG Series®), 3D connected geocells which create a strong foundation and distribute the load.
Turf Paving
Turf Paving
Grassy (Turf) Paving – The Load Support Grid (LSG) which consists of 3D connected cells can be filled with a mix of topsoil and clean stone to create a stable foundation for overflow parking, fire truck access, parking pads and more.
Reinforced Slopes
Reinforced Slopes
Slope Protection/Erosion Control – Imagine a giant blanket of 3D connected cells which fortifies the earth to halt and prevent erosion. SlopeGrid is an economical permanent solution.
Mud Management
Mud Management
Mud Management – 3D geocellular mats stabilize problematic areas around the farm. The Load Support Grid (LSG Series®) is fast and easy to install. Low cost. Permanent solution.
Gravel Paving
Gravel Paving
Gravel Roads/Driveways/Access Roads – Our LSG Series®, Load Support Grid, can be filled with gravel to create a durable, stable foundation for gravel roads that will never rut.
About Cell-Tek Geosynthetics
Cell-Tek Geosynthetics, the exclusive manufacturer of LSG Series® Load Support Grid, SlopeGrid, and Gravel-Lok®, was founded in 2007 by three partners. Two were successful hardscape experts and one was a leader in manufacturing with a passion for landscaping. Together they discovered the incredible benefits from geocells installed as a foundation below pavers. They went on to develop an array of innovative products for many other applications, including amazing new technologies for stormwater management.
More About Us